After 65 hours of treacherous winter driving and a few pit stops along the way, we have arrived at our final destination of St.John's Newfoundland, Canada. The city of St. John's is located on the Eastern Coast of the Island Province of Newfoundland(AKA: The Rock) on the East Coast of Canada. Although NFL is a Canadian province, it is situated so far away from Western Canada, that we did not actually know that much about the province. However, after arriving a few days ago, we have been pleasantly surprised with the beauty of the rocky landscape and wondrous coastline much resembling that of Ireland!!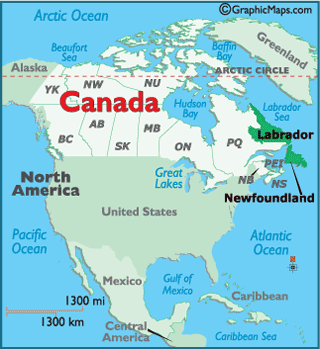 While the city of St. John's is not really that large, we are hoping to keep busy with lots of outdoor activities such as surfing (Dominic), hiking, sailing etc. And since we are closer to Reykjavik, Iceland and London, England than we are to Saskatchewan, I am hoping that we can squeeze a few trips into our two year stay on 'The Rock' while Dominic completes his MSc.
Dominic Checking Out the Surf
Since I have only been here a few days, I think it is still too early for me to comment on the local style and fashion trends. I will however say that my outfit posts should be great as the local scenery and landscape is breathtaking. The following photos were taken in a local village, on our Saturday afternoon drive around the Island as we searched out potential surf spots for Dominic.
I thought the nautical look of this dress (of which I purchased for half price in Toronto), in combination with my new Hunters (of which my lovely sister gave me for Christmas) was a perfect outfit choice for our coastal weekend outing. While I realize this kind of humid, rainy, cool weather calls for a layered look, I think my snood and my double layered tights did a great job of keeping me warm.